Solstice Herbal Dispensary & Medicines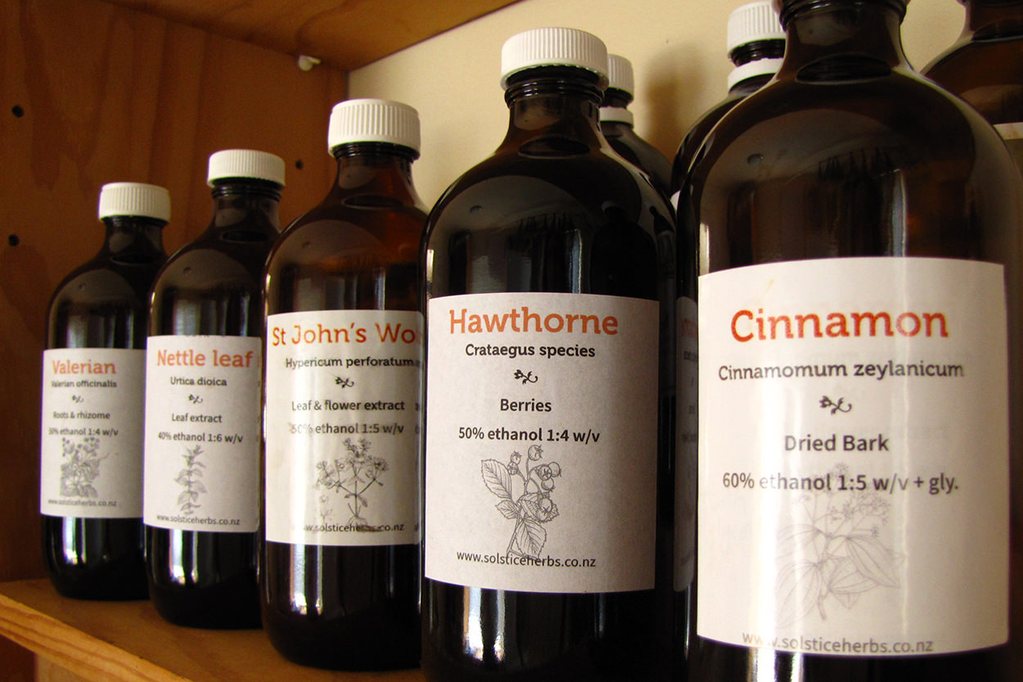 We have available a range of high quality herbal extracts, powders and dried herbs for internal use as well as a large range of products for topical use from both 'Thyme Heal' and 'Solstice Herbs'.
Benefits of a client consultation

Custom treatments for each person
One of the real strengths in making an appointment with a herbalist is that you get to have your own custom made blend, put together especially for you - as opposed to buying over-the-counter products that are made for general use.
Your custom made blend comes with clear instructions on how to take it and what to expect and is often part of a larger treatment plan. Repeat prescriptions may be picked up as required or, I can courier them out to you. Follow up consultations to check in and chart progress are encouraged as appropriate - depending on each patient's goals and requirements.
Quality manufacturing and supporting local
We make many of our own herbal tincture extracts, which are made traditionally as herbalists have been doing for hundreds of years. We also buy high quality potent extracts from New Zealand and Australian herbal medicine manufacturers.
Tablets and capsules too!
We also have available tablets and capsules of herbs and nutritional supplements, I like to have this option because for various reasons it is sometimes more appropriate to use these instead of (or as well as) tinctures, teas and powders.
Herbal Medicine Preparations
Herbal Liquid Extracts, Tinctures, Glycetracts & Vinegars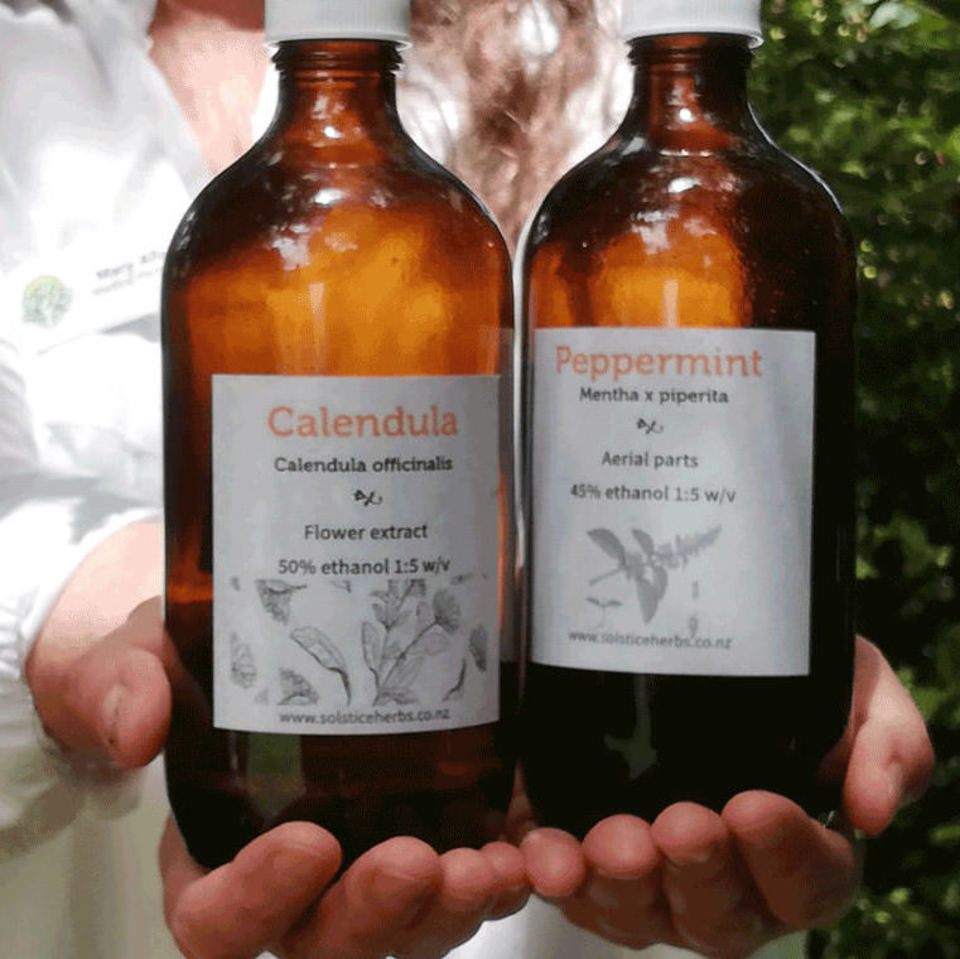 These are concentrated liquid forms that can be taken singly or mixed together to make a balanced blend of different herbs. They are taken either with a dropper directly on the tongue, or diluted with water. They are most often made in a base of alcohol (tincture or liquid extract) or less often in other mediums such as vinegar (acetract) or vegetable glycerine (glycetract).
Herbal Teas, Infusions & Decoctions
We also have a fully stocked dried herb dispensary and make custom blends for our patients so they can prepare water based extractions at home in the form of teas, infusions and decoctions. Dried herbs are a very cost effective way to have your medicine dispensed. There are different ways of making and administering them - steeping can range from 10 minutes to overnight. Decoctions are simmered on the stove.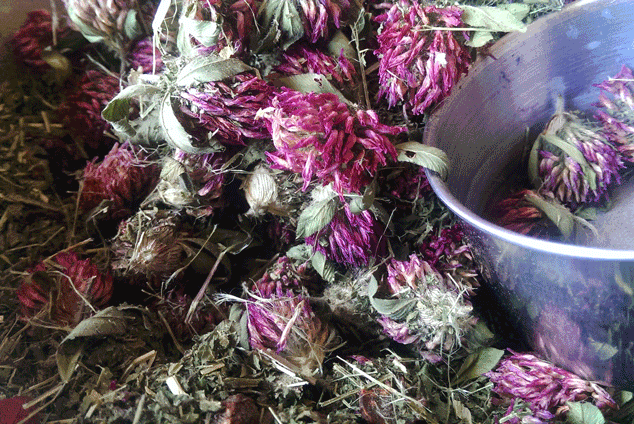 Herbal Powders
Some herbs are well suited to being administered internally as a powder. For example slippery elm bark, psyllium, ashwagandha root, triphala, turmeric or ground milk thistle seed. Depending on the herb and the desired result, they may be mixed with cold, warm or hot water and some powders may also have milk/mylk included such as turmeric made into the famous Indian 'golden milk'.
Herbal Tablets & Capsules
Tablets and capsules are very convenient - however there is a price for that convenience, and they tend to be more expensive than other forms due to the extra processing that goes into making them as well as more middle-men! They are suitable for those who cannot tolerate alcohol well, to aid compliance, when taking a particular herb or blend long term or for ease when travelling.
Medicinal Plant Oils

Plain pressed plant oils (known as 'fixed oils' or 'carrier oils') are incredibly nourishing and soothing. We carry a range of oils for our patients including flax, sesame oil, coconut oil, jojoba oil, castor oil and mustard oil. These are not the same as 'essential oils', unlike essential oils, fixed oils can be used liberally directly on the skin, and some of them can be used internally as well. They are very safe and are useful for a whole range of conditions including dry skin, sore joints, sore muscles, jangled nerves, and digestive disorders.
Infused Herbal Oils
Herbs may also be infused into a fixed oil such as olive oil and used topically to treat a range of conditions including skin problems, soft tissue injuries, earache or nerve pain. They are also useful for mix into massage oils and may be incorporated into solid topical preparations such as ointments, salves, balms and creams.
How much do the Medicines cost?
Prices vary depending on each person's health goals, their budget and what is going on with their health. Herbal Medicine practitioners receive no subsidies from governments whatsoever, it really is a case of taking our health into our own hands and acting independantly. Despite the lack of govt support, visiting a herbalist need not be ridiculously expensive. I do my best to make good health an affordable option for everyone who comes to see me, you can visit our pricing page here to learn more about costs. If you have further questions or would like to discuss further before making a booking, you are welcome to arrange a time to talk via our contact page here.
Yes, I want to make a Booking!
If you would like to make an appointment with Mary, please go here to get in contact.

About Herbal Medicine
Historically Herbal Medicine has been used for as long as human kind has existed. Three quarters of the world's population still rely on herbal medicines for primary health care. There is a wealth of reliable traditional knowledge relating to the use of plants to aid healing as well as a growing body of scientific research.
Despite the effectiveness of well-prescribed plant medicine, with the advent of industrialisation and the development of techniques to extract chemicals in Western countries, there was a shift away from herbal medicine to synthetic drugs. However, in more recent times there is a growing awareness in the public that many of these drugs treat symptoms only and may have unpleasant side effects. As a result there is a resurgence of interest in traditional Herbal Medicine. There is a growing body of clinical and scientific evidence supporting traditional uses of medicinal herbs. In addition, as the herbs have a long history of human use, their safety and efficacy are widely accepted by many world wide authorities.
---
There is nothing we like better than the thrill of finding a magical patch of medicinal herbs ready to pick and make into herbal medicine to dispense to our friends, whanau and patients!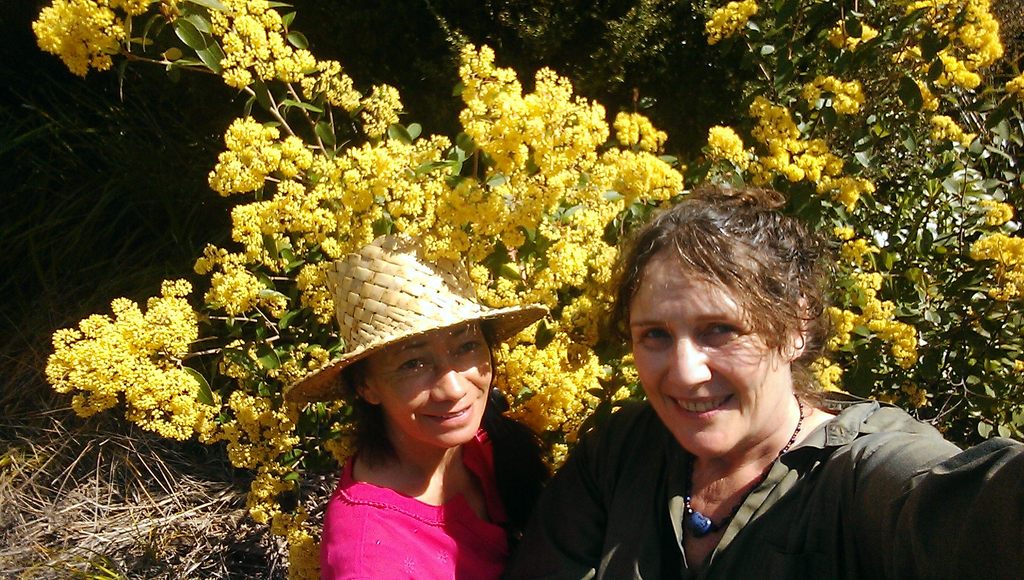 ABOVE From Left: Mary with good friend and naturopath Moana Rei-Hutana on a field trip in the North Island picking native medicinal herbs.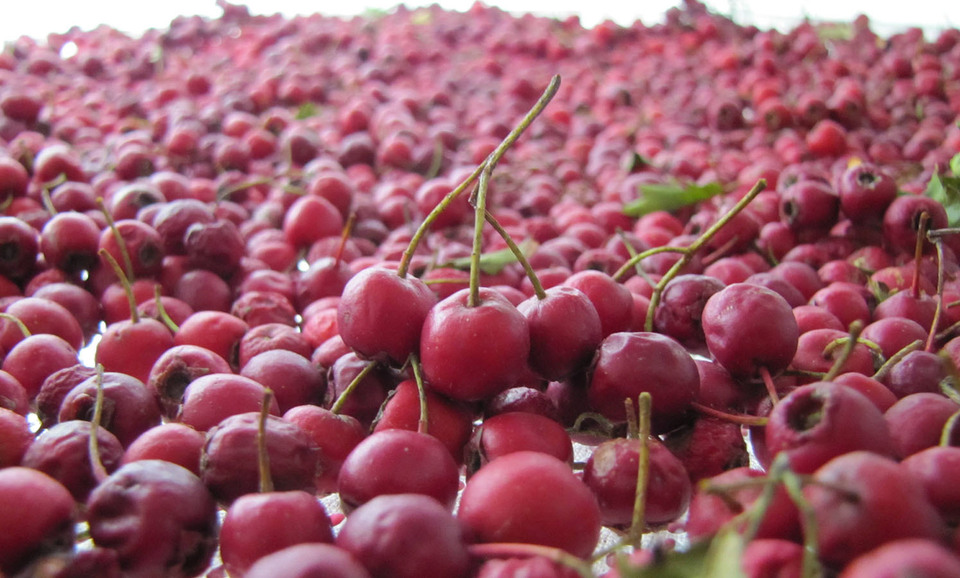 ABOVE: Freshly picked New Zealand Hawthorn berries are quickly dried to maximise quality and effectiveness then made into medicines to nourish and support the heart and circulatory system.