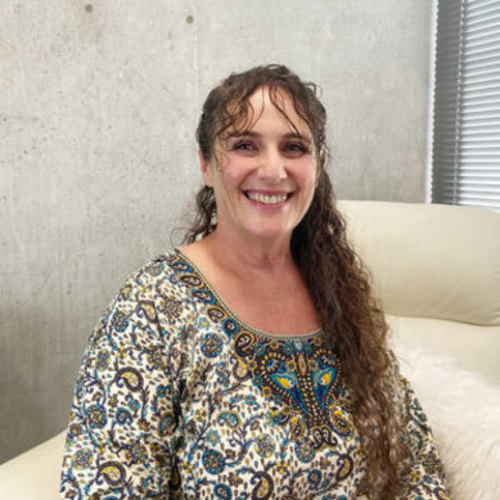 Meet Mary
Hi, I'm Mary Allan, Herbalist & Holistic Health Practitioner. I practice from Milford, Auckland as well as running monthly clinics in Coromandel town. You are invited to come and experience the joy of natural herbal medicine! The clinic space is warm and inviting, appointments are informal, comfortable and client-centred. Herbal medicine is a central part of treatment, plus we may choose to select or combine other treatment approaches of which I am trained in. I also co-authored two herb books with Isla Burgess, which can be purchased from our online bookshop.
Click on the links below to learn more, or if you've already decided to make an appointment, go ahead and book in now.
The Hum of the Herbal Dispensary
Nature is the heart of my practice, the dispensary is the hub, the centre of whirring, whistling and work as form meets and greets the promise of better health, this is what makes the place hum. Carefully made by hand, tried and true. It is a blessing to be shared.
So we stock herbal tinctures made by us, traditionally as herbalists have been doing for hundreds of years, and we also stock galenical extracts purchased from local and Australian manufacturers who create their high-strength extracts with great care too.

Although herbal tinctures and extracts are key to my practice, also very commonly prescribed are other unique medicines we dispense here including flower essences, creams, ointments, liniments, oils, powders and dried herbs for teas, infusions, poultices and compresses to name a few!
Herbal and homeopathic tablets/capsules and nutritional supplements are also available either on the shelf or to order. We do our best to get the medicines you need to make you feel better.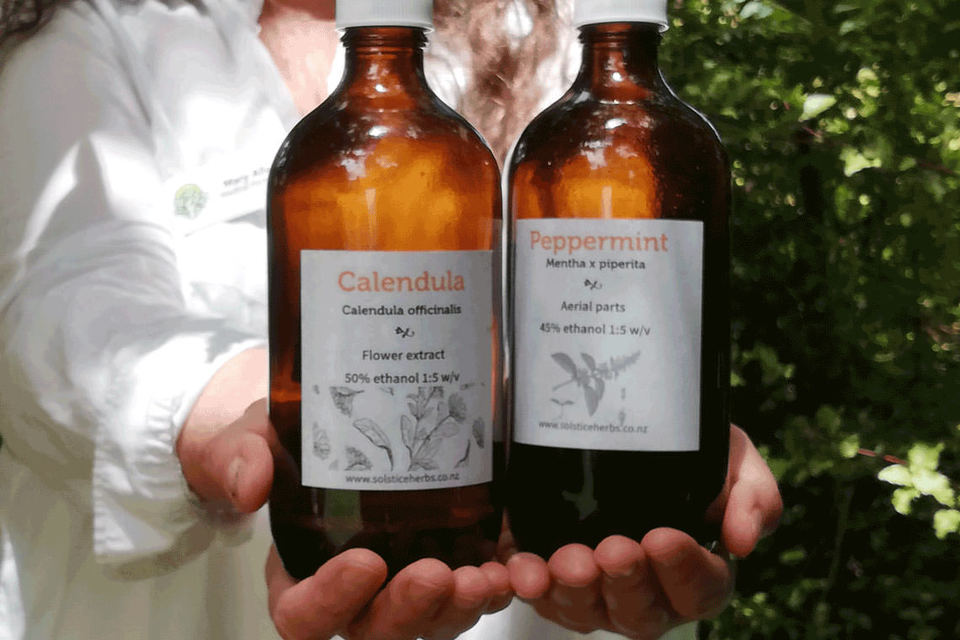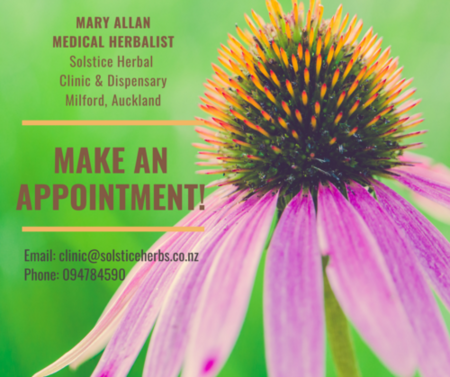 Client Feedback
"I just wanted to say Thank you Mary, I have been taking the herbs and feel so much better, they started working the day u gave them to me! Yay!" - Louise, Auckland
"Mary's consultation was very informative and reassuring. She provides very good explanations of medical terminology and provides a relaxed environment. Mary is down-to-earth, friendly and knowledgeable in her role as a health practitioner." - Nick, Auckland
"...Thank you, I've been bragging to my girlfriend about how amazing you are and how much better I am feeling in so many ways!" (with smiley faces) - Annette, Auckland
"I can't express how grateful I am for your absolute professional loving care throughout this health issue. Thank you." (with prayer & flower emoji's) - Fiona, Whangaparaeoa Peninsula
"I just wanted to let you know that the Ginseng mix is amazing and I am noticing the difference right away. Also the Eye drops and Blackcurrant are helping my eyes immediately- such a relief..." - Vicky, Great Barrier Island
"Mary is the first person I have found in the 12 years I have been in NZ who really knows her stuff and was able to help me now that my herbalist in the UK is retiring. She has great listening skills and knowledge and is able to think outside the box to problem solve. Nothing was too much trouble for her and I highly recommend her!" - Keely, Auckland